Day 1
Moving time: 5:40:40 – Distance: 117.1km – Climbing: 1300m
This trip begins on an August morning of 2019 at Shichinohe-Towada station in Aomori prefecture. Aomori is the northernmost prefecture in Honshu island and has a climate similar to Hokkaido. Aomori is rural and sparsely inhabited and about 12 percent of its land is designated as natural parks. Cool temperatures and quiet roads make it a great area to explore by bike.
From Lake Ogawara, we traveled north alongside the coast of Mutsu Bay and stopped for lunch at a drive-in near Hibaritaira. The landscape of Aomori is remarkably different from Kanto. Wheatfields and cattle ranges are more common than rice fields. Western-style farmhouses, like in Hokkaido, have silos and large barns instead of the traditional kura storehouses. The high latitude is also reflected in flora and fauna, which is wild and harsh.

After Mutsu city, we climbed Mount Osore. The mountain, an active volcano, is believed to be one of the gates to the underworld in Japanese mythology. For what I know, it could well be. The place looks damned and otherwordly with its acid lake, rotten smell of sulfur, and spooky Bodai-ji temple.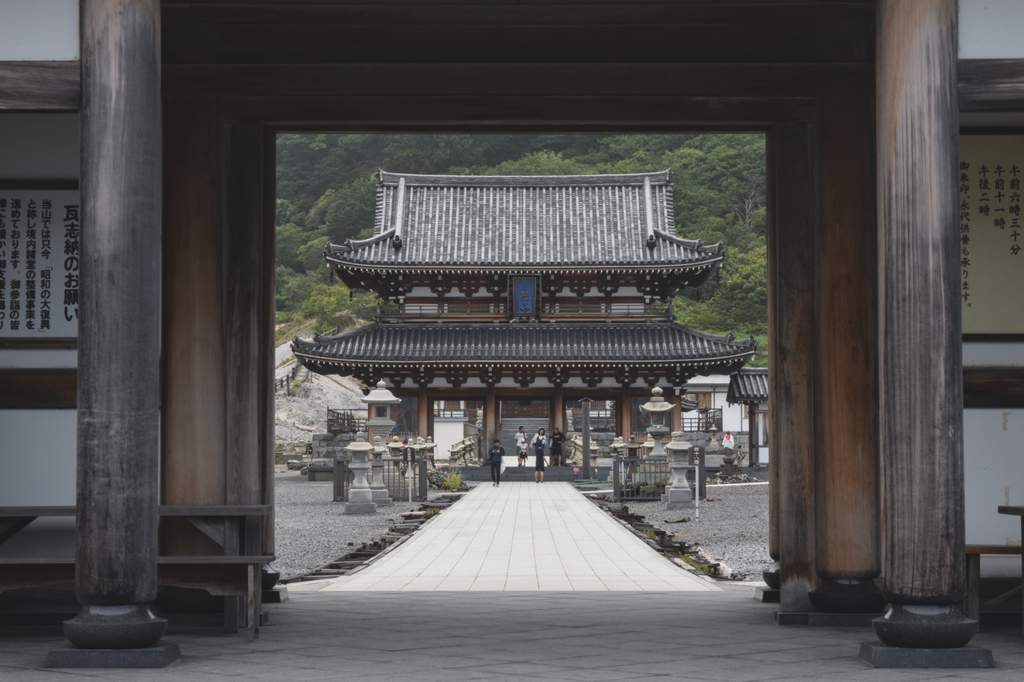 Before dusk, we escaped the caldera of Osore after a short climb and, under the rain, arrived at a campsite near the Ohata river. After a 117 km ride with luggage, I was toasted. But a hot bath in a nearby onsen helped the legs to recover. 
Day 2
Moving time: 1:38:43 – Distance: 42.4km – Climbing: 244m
Moving time: 1:29:55 – Distance: 19.8km – Climbing: 82m
On our second morning, we rode 42 km to Oma city, where we boarded the ferry to Hokkaido. Due to a change in the weather forecast, we decided to adjust our plans for the upcoming days. Instead of cycling to Sapporo, we decided to stay one night in Hakodate and then take a train to Otaru the following day. 
Hakodate has the vibe of a small border town booming with tourism. During the Meiji restoration, the city was an open port to foreign ships. The city is somewhat similar to Nagasaki but with a strong Russian influence. In addition to a consulate and a Russian school, there is also a beautiful Orthodox Church that is still under the jurisdiction of the Moscow Patriarchate.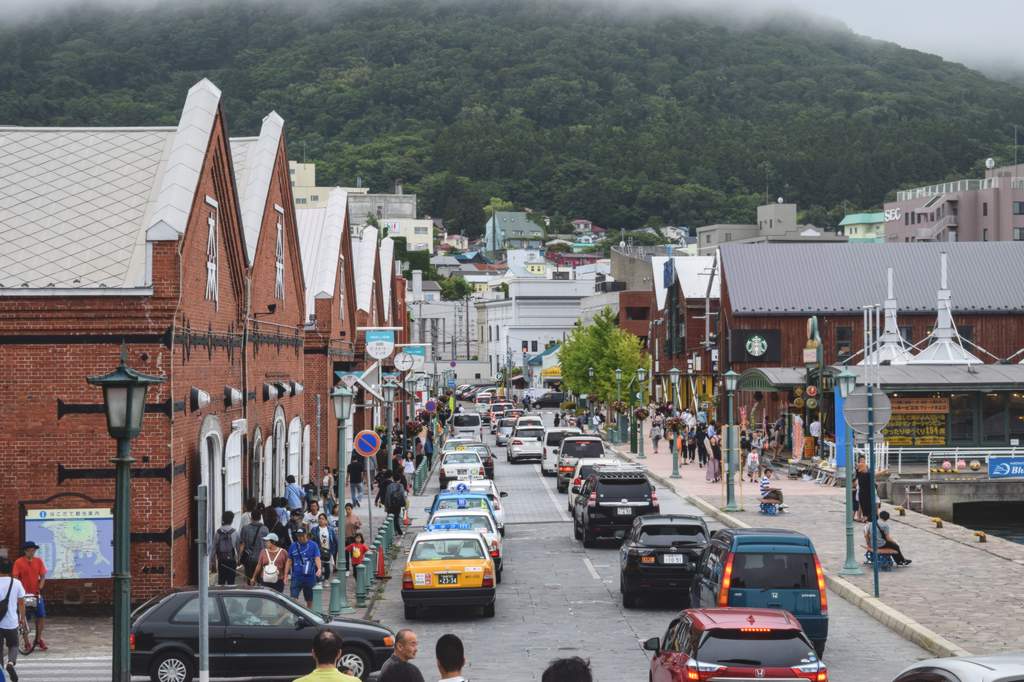 In Hakodate, like most tourists, we strolled in the area around the fish market and the Kanemori Red Brick Warehouses. We ate some fresh seafood in the market and then decided to fill up the stomach at Lucky Pierrot, an eclectic hamburger restaurant that was gathering lines of customers. Good stuff, but not life-changing. 
Day 3
On the third day of our trip, we only cycled from hotels to train stations. Cycling and camping in the rain is not a fun endeavor. We took a day off the bike and booked a night in a hotel in Otaru. The town of Otaru was an open port during the Meiji restoration and underwent an extensive redevelopment project in the 1920s, only to fell in decline with the rise of Sapporo city. Today, Otaru is a major tourist destination in the region, and its warehouses along the harbor's canal have been converted into restaurants and breweries.
Day 4
Moving time: 3:18:32 – Distance: 55.8km – Climbing: 1057m
From Otaru, we moved by train to Asahikawa city and entered by bike Furano valley, a popular ski resort destination. The valley has some of the longest straight roads I have seen in my life. Furano was colonized in the early twentieth century when infrastructures such as roads and railways were built in conjunction with settlements — hence, straight roads. As you can see from the map, we cycled 1057m of elevation in a straight line on our fourth day.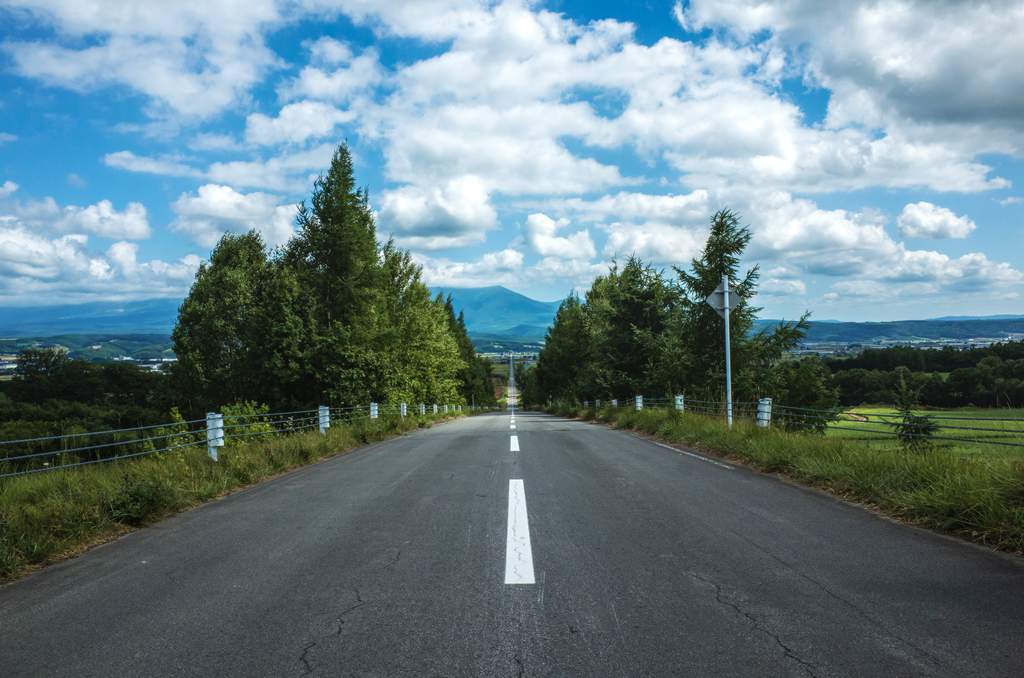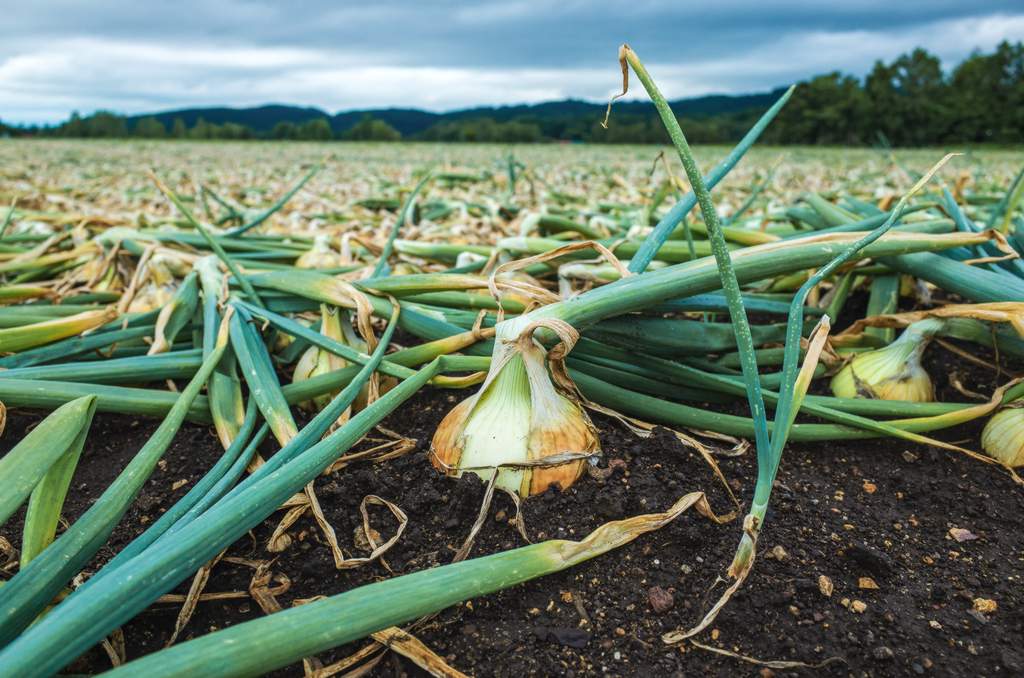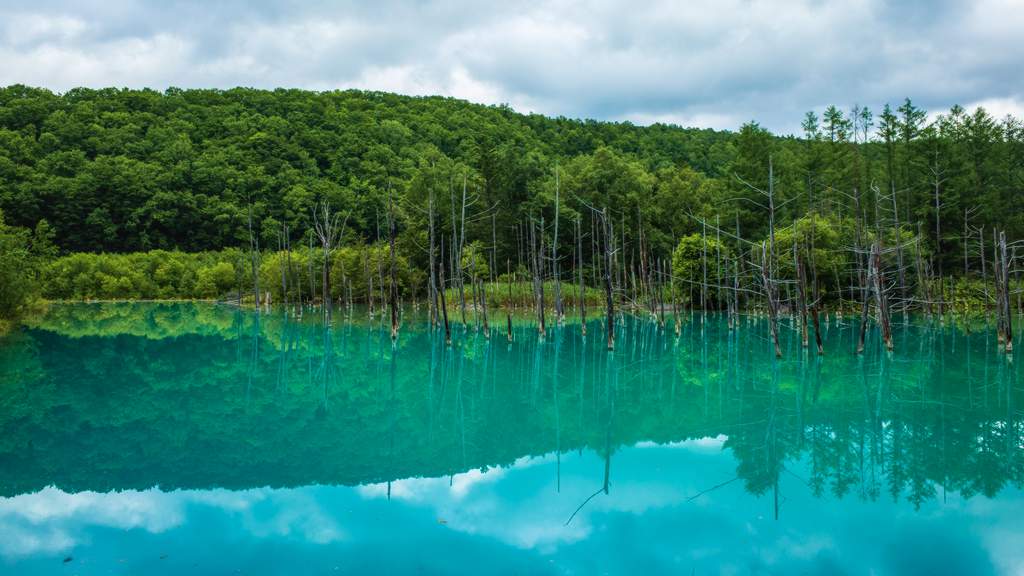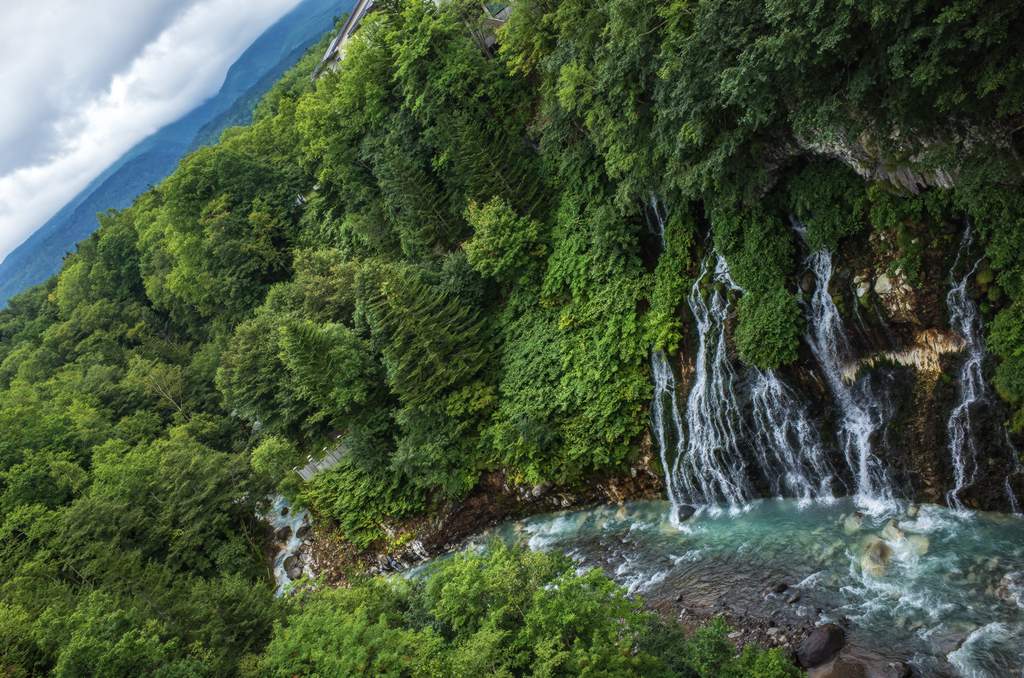 The massive mountains and gentle slopes of Furano valley give the landscape breath. The scenery, with western-style farms and wheatfields, reminds continental Europe and is as far as you can get from Honshu. Most tourists gather in a few spots across the valley, such as at the Furano Lavander Farm, the Blue Pond, the Shirahige falls, and the Ningle Terrace. While these spots are worth checking out, the beauty of Hokkaido lies in its nature and remoteness. Therefore, I suggest exploring the less beaten paths and ride as far as possible from cities and tourist attractions. For instance, we found regular carrot and onion farms to be more scenic (and for sure more authentic) than the famous Lavander Farm. Likewise, the Blue Pond looked nice on Instagram, but not so much in real life when confronted with crowds of loud tourists with selfie sticks. There is, however, a tourist hotspot that is worth visiting regardless of crowds – the Furano Cheese Factory. From a European point of view, dairy products in Japan are costly and underwhelming (blame protectionism). The Cheese Factory, however, provides good quality stuff at sensible prices. Their ice cream is also very savory. 
After a few dozen kilometers in the morning, we stopped in Biei at a good Sichuan restaurant and then started climbing, straight, toward Mount Tokachi. The gentle gradient of Route 966, averaging 2.6 percent, made ascending almost imperceptible. After a few kilometers of onion and carrot farms, we reached Shirogane Blue Pond. Then, a few minutes later, we arrived at Shirahige Waterfall, where we ate an early dinner before heading to the campsite. 
It took us an additional hour to ride the last 9 km of the climb to the Hakuginsomae Camping Ground. The view above 1000m of elevation was stunning, and we stopped countless times to take photos and gaze at the vast horizon. But the best hat yet to come. The campsite was next to Fukiage Hot Spring Health Center. Without question, the most delightful onsen I have ever visited. After mounting the tents, we spent a good hour soaking in the outdoor hot spring below a starry night. Marvelous. 
Day 5
Moving time: 3:26:02 – Distance: 80.8km – Climbing: 458m
On our fifth day, we ate a quick breakfast at the Fukiage Hot Spring Center and then headed for a morning bath at the nearby Fukiage Open-air onsen — a hot spring carved out from a small thermal stream in the middle of a forest. From there, we then rode downhill to Furano city.
During the afternoon, we visited the crowded Tomita Farm, which did not live up to the hype. For lunch, we ate a bowl of curry rice at Farm Restaurant Azemichi Yorimichi. The curry was cooked with fresh local produce and was terrific. Following a last stop at the Furano Cheese Factory, we moved to Kanayamako Lake. Finally, after leaving Furano valley, we climbed up some hills and entered a semi-alpine habitat, where we spotted numerous Sika deer alongside the road.
Following the routine of the previews days, we set camp and headed to an onsen. Kanayamakohan Camping Ground has a beautiful view of the lake and is conveniently located near a hotel with a public onsen. During the night, I was awakened by some wild noise next my tent. I unzipped the door and saw litter all over the place. A fox had found my garbage bag, ripped it open, and scavenged the leftover instant noodles. Never leave garbage bags outside of your tent. Lesson learned!
Day 6
Moving time: 5:39:18 – Distance: 124.7km – Climbing: 727m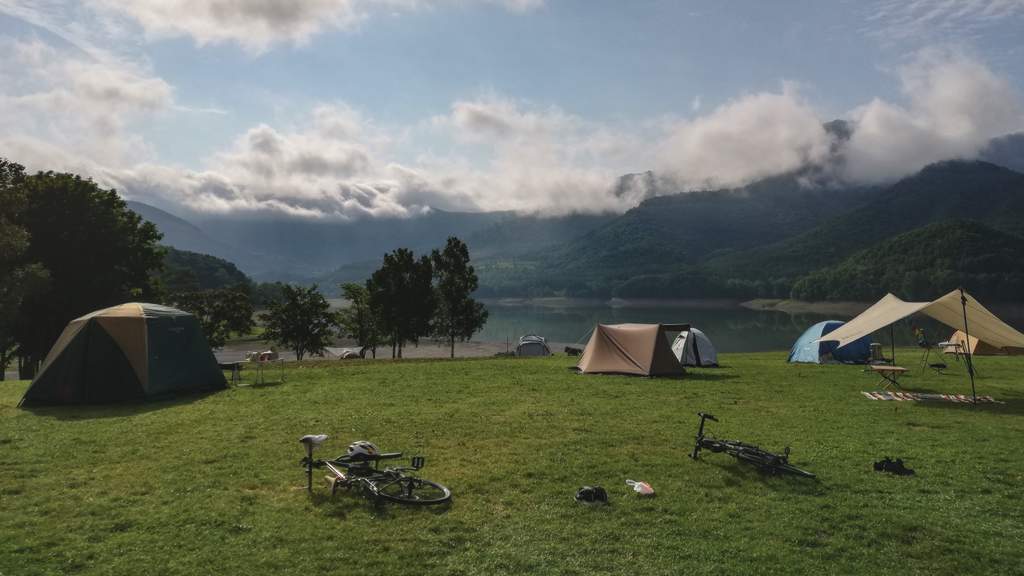 For our final day, we rode the longest distance of the trip and did some unintentional gravel. From Kanayamakohan Lake, we cycled south to cross the Hidaka Mountain range. We then turned west to follow the Mu river after passing Shimukappu. The road, however, was not paved, and it took us almost two hours to ride 18 kilometers.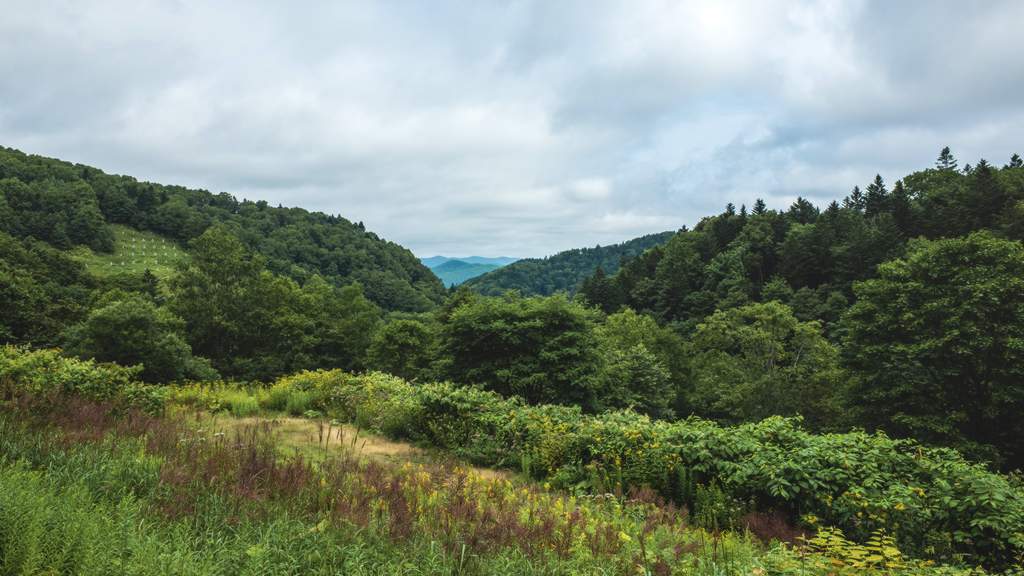 While in the woods, we also had a moment of panic when we came across a big pile of feces, which we deemed to be from the infamous Ussuri brown bear. Bears and Japanese people have a rather complicated relationship. Every year, news breaks out of some bear attack or rampage that kills and injuries civilians. Some attacks, like the Sankebetsu brown bear incident in 1915, have even become part of popular culture. However, as Philip Brasor writes in the Japan Times, bears are "widely vilified and little understood." In recent years, for example, there have been claims that bears are becoming aggressive because they are growing used to eating human flesh. The truth is much more mundane. Most attacks occur when humans get too close to their cubs. In a few instances, bears can also attack due to starvation caused by man-induced disruptions to their natural habitats and food chain. Anyhow, during the rest of the ride, I paid extra attention to avoid puncturing my 28mm tires and getting stuck in the woods with no means of escape! Better safe than sorry.
We finally returned on paved roads in the valley of the Hobetsu river, where we made a last afternoon break at Mukawa city. We stopped at Mine (峰) cafe and sampled a local treat: apple pie. 
We continued riding south along the Mu river until we got close to the coast. From there, we rode west to Hamaatsuma Port and boarded the overnight ferry to Akita. The following day, after a night of sleep on the ferry, I returned to Tokyo and its awful summer temperatures.
In conclusion, Akita and Hokkaido are great destinations for cyclotourism and bikepacking during the summer season. Temperatures are mild, roads are in great conditions, and landscapes are breathtaking. I wish to go back soon.