Moving time: 4:55:55 – Distance: 104.7km – Climbing: 1061m
Boso peninsula is a great day-trip escape from Tokyo. So much so that Japan Railways (JR) operates a special train for cyclists connecting Tokyo to the peninsula. The train operates from spring to fall on weekends and does not require bikes to be packed into rinko bags. JR also provides a bike rental service at Ryōgoku station and recommends various cycling routes on its website.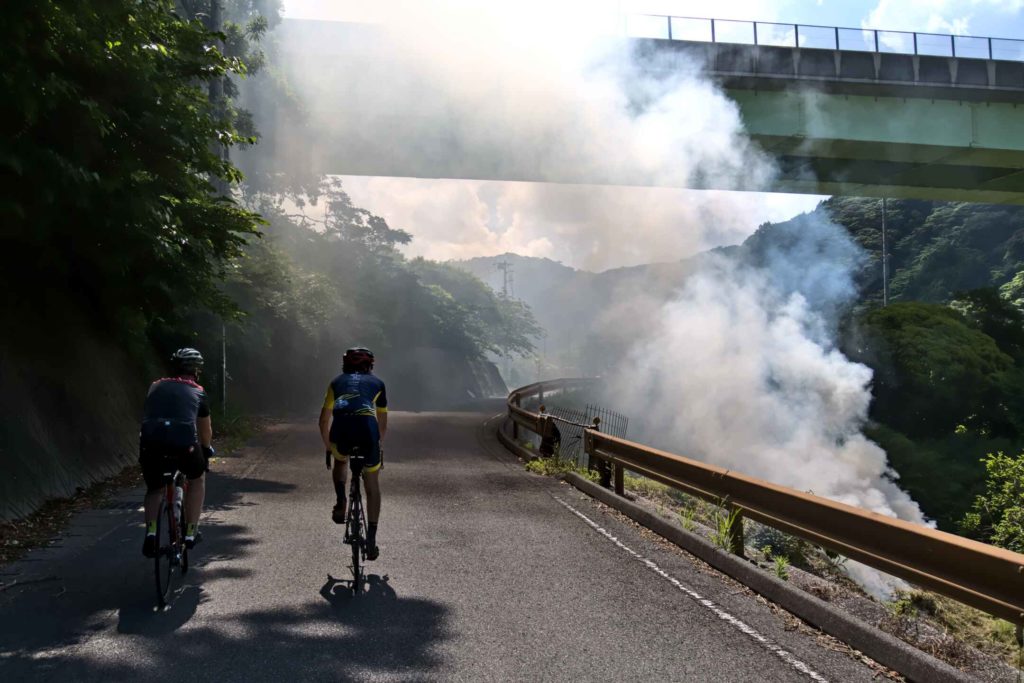 Due to the ongoing pandemic, we decided to ditch the train and rent a car. From central Tokyo, we reached our destination in around one hour passing through the Tokyo Bay Aqua-Line expressway. The Aqua-Line connects both sides of Tokyo Bay with the fourth-longest underwater tunnel in the world.
We started our ride in Hota city at a rest-station with free a parking lot and various amenities. From Hota, we rode the Kotsuki Narcissus Road and headed uphill to Sakuma Dam Water Park. Boso has a hilly terrain with narrow roads, hairpins, and steep climbs. Inland areas are scarcely populated and traffic is almost non-existent. Overall, it's a fun playground for road cyclists.
After the Sakuma Dam, we started the longest climb of the day and made our way to Oyama Senmaida rice terraces. The 350 paddies at Oyama Senmaida are recognized as a a cultural landscape of Chiba's prefecture and seem to be a popular tourist hotspot among families and motorbikers.
We continued uphill for a few kilometers before clearing the hill and starting on a steep descent to the Pacific coast. At the beach near Minamihara station we noticed a dozen surfers soaking in the sea. Boso is a popular destination for surfing and there are many cafes and guesthouses with boards on their walls. Hungry from the ride, we decided to stop at a restaurant and ordered a large bowl of seashell curry.
The coastline on the Pacific is an overall enjoyable ride, albeit a bit boring (no climbs!). We only stopped a few times to refuel our bidons and snap some photos of the rocky shores. After the southern point of the peninsula, we entered Tokyo Bay and headed back to our car. The coastline of Tokyo Bay has not much to offer to cyclists. Landscapes are mostly industrial, and roads are crowded with fast-moving vehicles. Next time, we will stick to the hills and the Pacific shore.